Fans of ALIEN rejoice, as that time of the year is almost here. Yes, Alien Day will be celebrated for the 2nd year running on 26 April; the day that ALIEN fans worldwide have come to see as a day to celebrate all things ALIEN. In the way that Star Wars and Back To The Future fans have gone, fans of ALIEN were not to lose out and wanted their own dedicated day and thus Alien Day was born in 2016. In a nod to LV-426, the fictional moon where the xenomorphs were first discovered, 4/26 or 4-26 can be interpreted as April 26, hence the chosen day.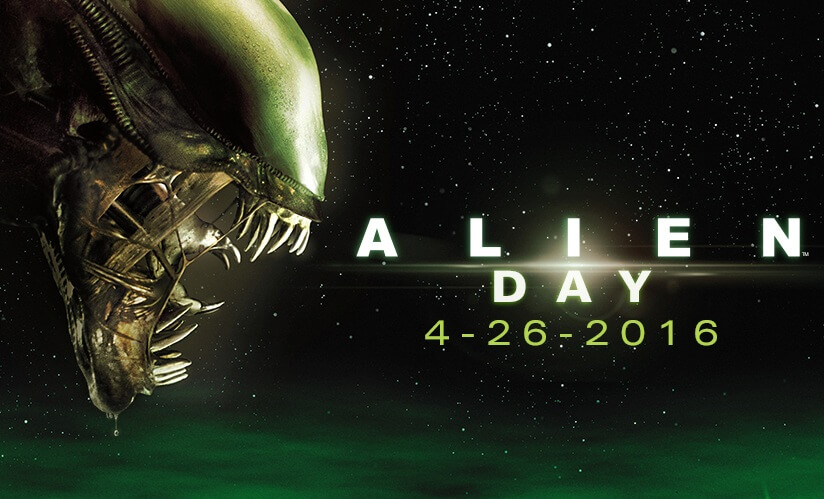 Worldwide, there will be 24 hours full of activities for hardcore fans to celebrate the hugely popular franchise. The "MU/TH/UR of all ALIEN Trivia Challenges": on www.AlienUniverse.com where Fox will unveil a new quiz every 4 hours and 26 minutes and a Fan Art Contest: Submissions for a Fan Art Contest are now open at AlienUniverse.com. Over here in Singapore, the event will begin with the launch of the ALIEN Virtual Reality Experience with Starhub on 25 April at 7pm at the MINT Museum of Toys by invitation only. Fans will be able to immerse themselves in a unique VR experience that will feel like the first memory of an Alien Neomorph at the time of it's birth. It will be brought to various parts of Singapore by Starhub after the event.
The special marathon screening of the original 1979 ALIEN starring Sigourney Weaver (Director's Cut) and 1986 ALIENS at Golden Village Suntec City will follow on April 26 where fans can watch the sci-fi thrillers. Fans will be treated with a one-of-a-kind commemorative item and exclusive content from the upcoming Alien: Covenant. Tickets are limited and will be given out by Twentieth Century Fox, Golden Village, and participating partners.
There will also be a month-long ALIEN movie exhibition from April 26 to May 28 at the MINT Museum of Toys which will showcase various ALIEN memorabilia and statues including limited edition collectibles. Admission tickets to the museum are priced at $15 each and will include access to the other galleries in the museum.
So as the countdown continues to the release of the highly anticipated new chapter in Ridley Scott's groundbreaking ALIEN sci-fi thriller Alien: Covenant worldwide on 10 May, don't forget to whet your appetites by taking part in the various ALIEN activities available islandwide for all you die-hards out there. We imagine it will make the wait for the release of the sci-fi thriller less tedious and much more fun!